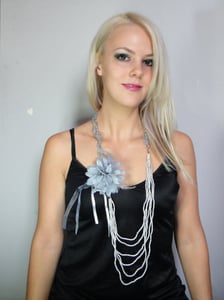 $

15.00
This is a handbeaded necklace, and brooch combo!
Let's start with the necklace, it is a total length of 34 icnches or 87cms featuring beads, with multiple strands of seed beads, and gorgeous sheer ribbon detailing.
The necklace has a grey flower brooch that can be attached to the necklace, see first picture, and also attached to a headband.
Combo Includes:
- 1 handmade beaded and ribbon necklace
- 1 handmade fabric brooch
CUSTOMER FEEDBACK:
The 1920's flapper headband was so fashionable and comfortable! Seller was extremely professional and the item arrived as promised. Would do business again!
3.15.2011